Even as a Southern California native, nothing quite prepares you for Coachella heat. 
"Coachella heat." 
I say it like the phrase is a thing people say — but judging by the number of times I heard people complain about the darn "Coachella heat" on set, it seems alright to use here. But being an extra on a production as large as this remake of A Star Is Born is, you don't get much say: you just take the hot water bottles and acknowledge how lucky you are to be there. 
In the beginning we're led, amusingly, through a field of cool sprinklers towards the Main Stage, where Lady Gaga and Bradley Cooper's characters will be "performing," the production shooting a concert montage for the movie using Coachella stages. Cooper is also directing, tackling the expensive project as his directorial debut. I'm an extra in the crowd, a friend and several hundred more fans joining. (The rest of the crowd of thousands will be filled in with CG.)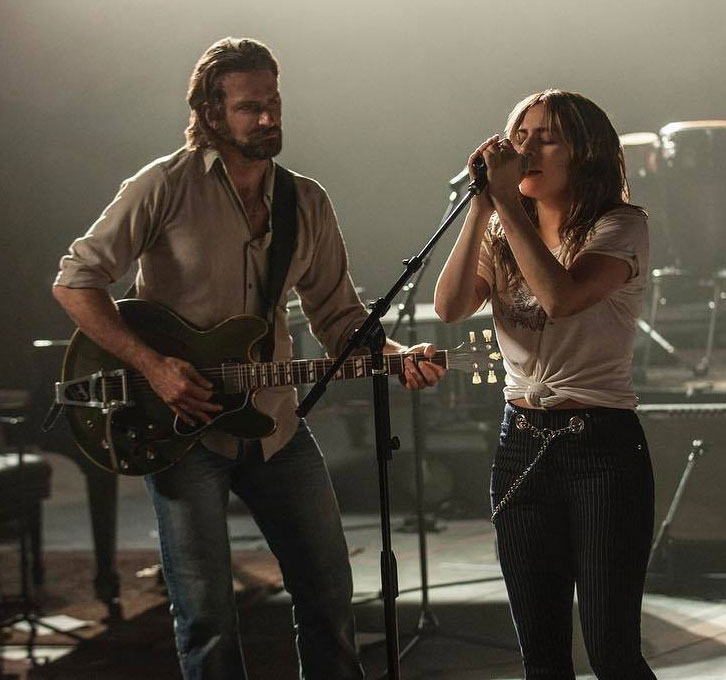 instagram.com/ladygaga
The sprinklers are a dash of false hope in the rising heat. 
Gaga, going as her birth-given name, Stefani Germanotta, is Ally, the young talent whom Bradley Cooper's Jackson Maine takes under his wing. For the (very vocal) fans worried about Germanotta's acting or the music: don't. The music is top-notch, as far away from the dance-pop that Gaga once called her signature sound as possible, but in a nice rock/ballad/country league all its own. Think Fleetwo—actually, just wait and see. It sounded awesome.
Germanotta herself appeared to be everything you'd want someone like her to be: she was confident, assured, and strode around set as if every step was a pre-calculated beat. She snapped into the Ally character as easily as she slides through musical genres, her posture and attitude turning into Ally's nervous, overwhelmed ticks so fast that for the first half-hour I simply thought Gaga was nervous herself to be there. She wasn't: she was always in complete control of Ally's character. "You've been out all night," Ally belts out, "diggin' my grave!" Jackson looks at her like the lyrics are true. The level of character commitment is apparent when they'd shout "Cut!" and Ally would become Germanotta again, her posture straightening, her voice suddenly telling, not asking. 
The main issue: at more than one point in the day, both Germanotta and Cooper and the Assistant Director had to tell crowd members to stop holding signs either promoting "The Cure" (the superstar's latest hit single) or with "Gaga" written on them; fans cut lines, were rude to staff and crew and others, and generally did their best to try to break Germanotta's concentration. If anything, the "super-fans" were the biggest annoyance, putting their need for Gaga's attention over the fact that, you know, trying to sneak Gaga signs into a fake crowd of what is supposed to be Ally fans is just rude and wastes everyone's time. Or, as the Assistant Director sighed, "We can see the signs on the monitors." (Aka "the signs are in-frame so these takes are useless.")  
Gaga's weary missive to the crowd at one point: "Don't get mad at me, but please don't hold up 'The Cure' signs during filming." You can tell it's a constant for her — it must be tough to see that kind of behavior from fans you know mean well, and even tougher to have to criticize people who treat your words as gospel. She slips back into character, going through long takes of "Diggin' My Grave" with Cooper.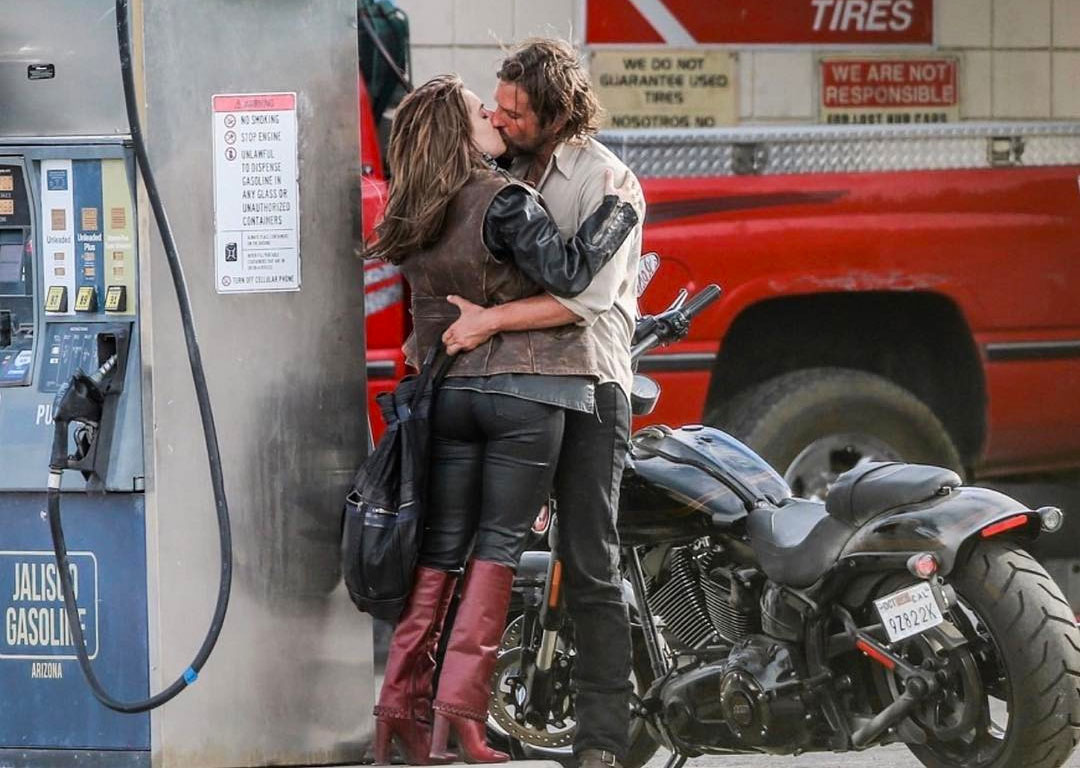 instagram.com
Still, the few aren't the many, and the majority of people there were genuine, dedicated fans who just wanted to see their hero at work. Spontaneously around two p.m., we break out into an acapella of "Million Reasons", the crew pausing to stare at the strange fans sitting in the sun just to see their favorite person. The level of commitment was incredible — not only were the long breaks between takes and shots increasingly tough in the pounding sun, but people had come from San Francisco, from Wichita, from Seattle — one woman had even flown in from New York.
By the time nightfall blissfully took over, over half the crowd had given up and gone home. There was a mini-exodus in the beginning as people realized Germanotta wouldn't be performing with a live mic and the temperature rose over ninety degrees with no shade in sight; as the day wore on and lunch was delayed multiple times, people left in chunks, peeling off from the crowd between takes. (How people actually go to Coachella and drink and dance all day in that heat, I'll never understand — and I'm a hipster too!) A one-hour setup stretched into two. Shots continued on past eight, nine, ten o' clock. We were in a hazed-up tent in the middle of the desert, exhausted, sunburned, most of us with hellishly-long drives back home. 
And then Ally gives her encore performance. Germanotta on piano, Cooper's character drunkenly introducing her. He knows the crowd loves her more than they love him. You begin to wonder if Cooper sees the irony of the same thing playing out in real life — for every fan shouting Cooper's name, twenty screamed for Gaga. 
Eleven p.m., Germanotta's final take. Makeup artists scrambling to adjust the fake sweat in her hair. Extras in the crowd fighting to stay awake, real sweat staining their clothes.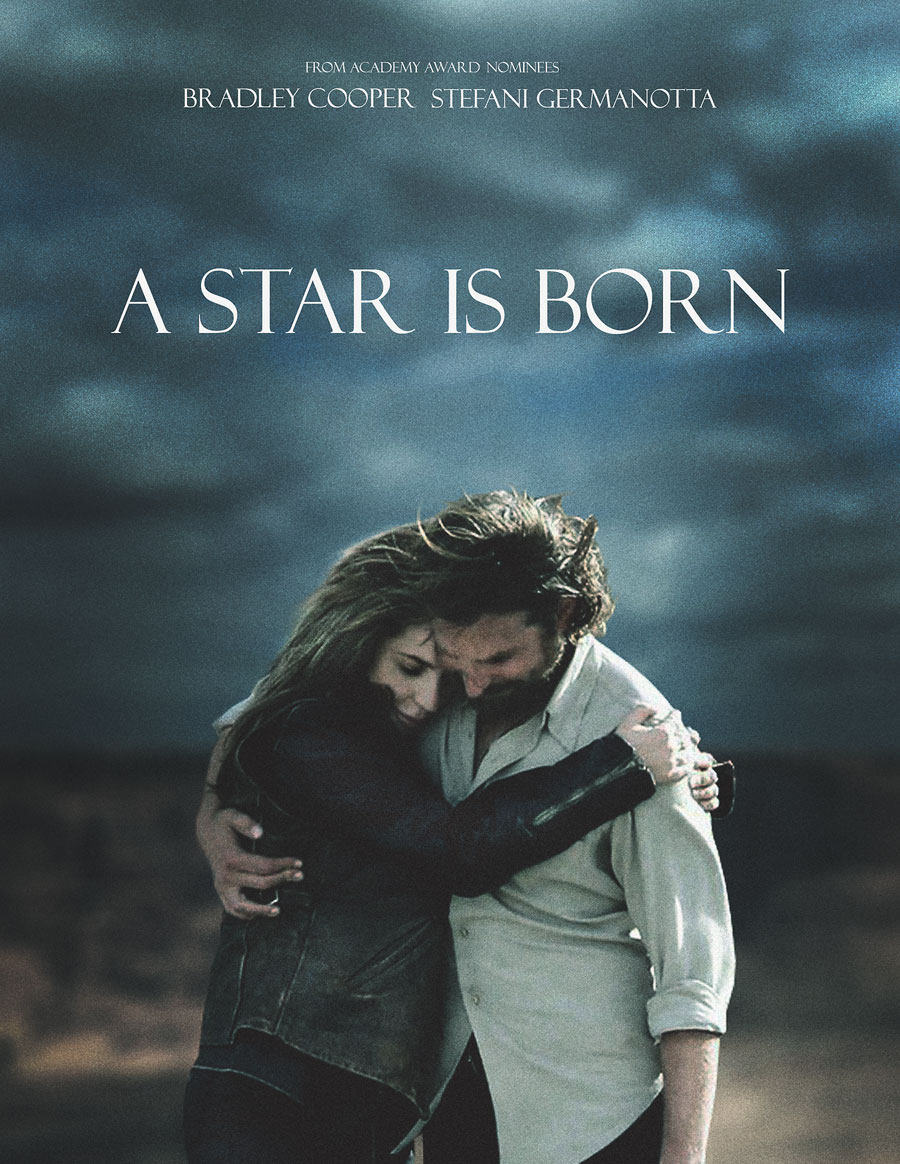 millionreasonsss.tumblr.com
Ally breaks down on stage, Germanotta singing her heart out, her vocal taking over the room even without a proper mic. Several assigned extras wave fake phones in the audience, the modern counterpart to old-school, analog lighters in a crowd. (It's not a period piece.) Cooper, who is supposed to be in character onstage, stops his fake guitar-playing to stare in awe at his lead actress. A smile spreads across his face. 
The song ends. The crowd of extras goes wild, all of us knowing we just witnessed something special. A once-in-a-lifetime performance. Germanotta becomes Gaga for the briefest of moments, mouthing a broken "thank you" into the crowd. The actors take a bow for us. 
In the crowd, previous strangers hug new friends. We all long-ago acknowledged how bad we smell, and hug each other with no shame. 
On stage, Bradley looks at Stefani and gives her a bear hug, grinning from ear-to-ear. He looks incredibly proud of his friend. 
They walk off-stage with the band, their faces lit up in ecstatic conversation.