Congratulations to Lady Gaga who just won her very first Golden Globe Award! Mother Monster took home the award for "Best Actress in a Limited Series" award for her role as The Countess on the latest season of American Horror Story.
"I feel like Cher in that John Patrick Shanley film Moonstruck right now," Gaga said as she accepted the trophy. "This is one of the greatest moments of my life. I have to thank Ryan Murphy, you're just a wonderful human being. You have believed in me so much and been such a good friend to me. Thank you to my wonderful cast, I love you guys so much, you're my family forever. I have to thank Matt Bomer, Denis O'Hare, Angela Basset, Cheyenne Jackson, Finn Witrock, Chloë Sevigny, Evan Peters. I could go through the entire cast because you're all so talent and because of you I was to able to shine, I guess. So thank you for sharing your talent with me, I wanted to be an actress before I wanted to be a singer, but music worked out first."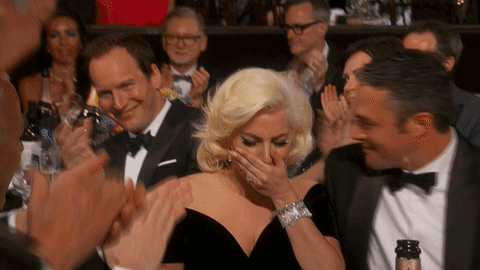 She continued: "To my family, my mother, my father, my sister Natali, I love you so much. I have to thank my team, you guys pick me up every single day.The things I put my body through and my mind through when I'm working, it makes me like a child. I can't even do things on my own. You allow that, and you take care of me, and you help me to explore my creativity in ways that I never thought I could. Thank you Brad Falchuk. Thank you Brad Buecker, Michael Uppendahl, Michael Goi, and Loni Peristere, my amazing directors. Thank you. I'm truly speechless. I really am truly speechless. Thank you so much."
The season finale of American Horror Story: Hotel airs this Wednesday, January 13th.